A milk frother is a necessary kitchen equipment if you want to enjoy your cup of coffee. A milk frother usually spins air to milk and creates a whipped cream-like foam that you can pour on the top of your coffee or tea. Nowadays, the markets are coming up with various models of the milk frother, so it would be an arduous job for you to choose the right frother for your kitchen. Each model has a single purchase, and that is to make a cup of steamy and frothy milk in a hassle-free way. Here, we are going to mention the best milk frothers of 2022. 
1. 

InstaCuppa Milk Frother:
This is a battery-operated milk frother at an affordable price for your kitchen. By using this frother, you can make your coffee stylish (like Barista style) and can impress your guests and friends. This frother creates a creamy froth for your favourite coffee within 15-20 secs. Since this is a battery-operated milk frother, you don't need to worry about sockets and cords. Moreover, this milk beater comes with a beautiful and eye-catching stainless-steel stand that can easily fit into your kitchen. You will also get a 1-year warranty from the manufacturer for this product.
2. HIC milk frother:

This is another premium quality milk frother for your kitchen. This frother creates a frothy creamy foam for topping for your hot or cold beverages in just 60 seconds or less. This frother is durable and versatile. This is made up of stainless steel, and it has an in-built double-mesh aerator and easy-grip handle. The capacity is nearly 14 ounces. By using this frother, you can create foam for whole milk, skim, goat milk, hemp milk, almond milk, soy or cashew milk, and other non-dairy milk. You can easily use this milk frother, and it is more economical than battery-operated frothers and expensive espresso machines.
3. Norpro Glass Froth Master

:
This is a perfect machine that will help you in creating that creamy foam topping of your favourite morning coffee drink. The capacity of the frother is 2C / 16oz. Since you are giving milk manually, without adding steam, hence it produces a lighter, longer-lasting froth. You can use this frother to make froth to spoon onto all your coffee drinks, hot chocolate, and even desserts. Hot or cold milk and non-fat milk froths beautifully with the help of this frother.
4. VAVA Milk Frother Electric Liquid Heater:
This is a multi-functional milk frother where by using cold, warm, or hot milk, you can make cappuccinos, macchiatos, lattes, flat whites, and many more items. This equipment comes with extra froth for more frothing. This frother operates silently while frothing, and the design is also smart and attractive. Strix temperature controls meet international safety standards. You can easily clean this frother. Moreover, due to the non-stick coating, there will be no trace elements in your milk.
5. Breville BMF600XL Milk Cafe Milk Frother

:
If you are a hot chocolate or creamy coffee lover, then this frother is ideal for you. This frother has a Lattà frothing disc for smooth and silky milk. It also contains a Cappuccino frothing disk for thick and creamy foam. By using this frother, you can make hot chocolate. For this, you need to add drinking chocolate powder, flakes, or syrup to the warming milk. This product uses induction heating. For easy cleaning, you can place the jug in the dishwasher.
6. Frothy Hand Mixer and Milk Frother by Cafe Casa

: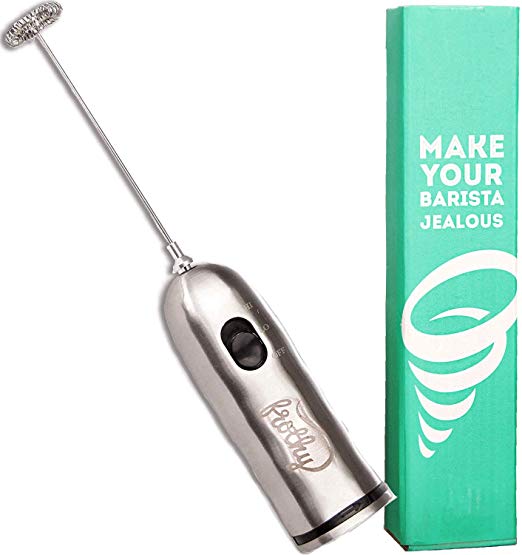 This electric hand mixer makes better drinks and also makes your kitchen more beautiful and intriguing. The product is long-lasting and powerful. Weighing in at 11oz, this stainless-steel latte maker has a firm grip and the curved body. Hence, it can easily fit into your grip. This handheld mixer has two speeds: 13,000 and 15,000 RPMs. This is a battery-operated product, and you can use it conveniently. 
7. Aerolatte 005 Milk, Original Steam-Free Frother

:
This is a steam-free milk frother with a satin finish. This frother helps you in making frothy beverages that you can enjoy anywhere without electricity. This frother is made of 18/8 stainless steel and plastic. It also Includes frothier and batteries. After adding milk, you need to operate it for 30-60 seconds, until foam has desired consistency. This frother is excellent for a whole, skim, and goat milk, hemp, almond, soy, cashew, and other non-dairy milk. This product can be used easily and is more economical than an Espresso Coffee Machine. 
8. MatchaDNA Premium Automatic Milk Frother

: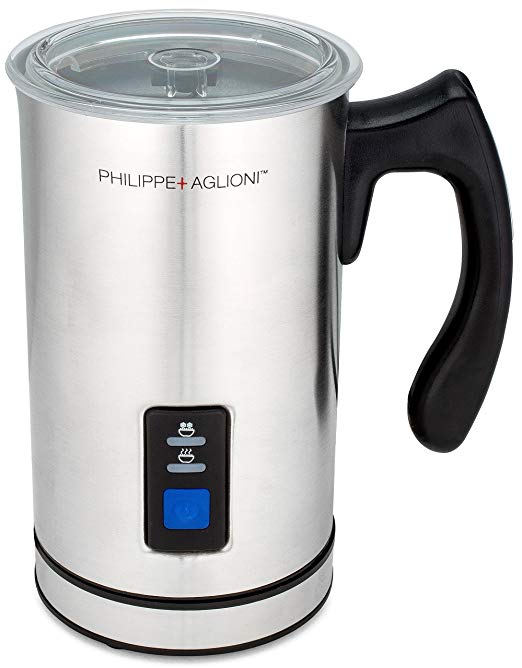 By using this frother, you can effortlessly create thick, creamy froth and heat milk. This machine is perfect for cappuccinos, lattes, hot frothed milk, and hot chocolate. You can easily use and clean the frother. The detachable base of the frother makes pouring and cleaning a breeze. MatchaDNA comes with long-lasting stainless steel. You can easily buy this product as you can get a 100% Money Back Satisfaction Guarantee.
9. Elementi Milk Frother Handheld Drink Mixer Coffee Frother

:
This is a powerful (19,000 RPM) milk frother. The frother has a torque motor boasts which is powerful enough in creating foamed milk in just 45 secs. This is an ideal gift for coffee lovers, and it can go well with any kitchen. The stainless-steel whisk is entirely durable, long-lasting, and rustproof. By using this frother, you can make different types of coffee. Even you can even make bulletproof coffee or whipped hot chocolate with this frother. This frother can be operated easily, and it is 11 inches tall and 4 inches in diameter. Moreover, you can also clean it easily with hot water. There is a stand where you can keep it safe. 
10. Handheld Milk Frother

: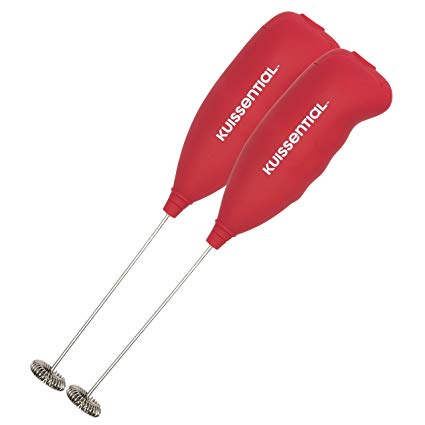 Kuissential Slickfroth 2.0: This is a battery-operated milk frother. This machine creates delicate foam for homemade lattes, cappuccinos, hot chocolates, and more. This equipment comes with a stylish handle, and it is made of stainless steel. You can easily operate and clean this frother. The manufacturer has launched the new and improved version 2.0, based on customer feedback. 
A few final words
On above, we mentioned only the best milk frothers of 2022. Using the help of the internet, you can find many more milk frothers as per your wish. To enjoy a whipped coffee in the morning, you can purchase any of the milk frothers mentioned above as per your budget and requirements. 
FAQ 
Do milk frothers work with cold milk ?
 

This can froth warm or cold milks.

 To use, just add warm or cold milk, place the plunger and lid on top, and pump the handle for 30-60 seconds to create the ideal foam.
What does frother does to milk ?
Milk is aerated using milk frothers, which produces small microbubbles that give the liquid a creamy, light quality while also increasing its volume. Different types of foam, from silky smooth textures for lattes to frothy foam for cappuccinos, are produced by using different frothing procedures.
Hope this is useful, for more informational content – visit us