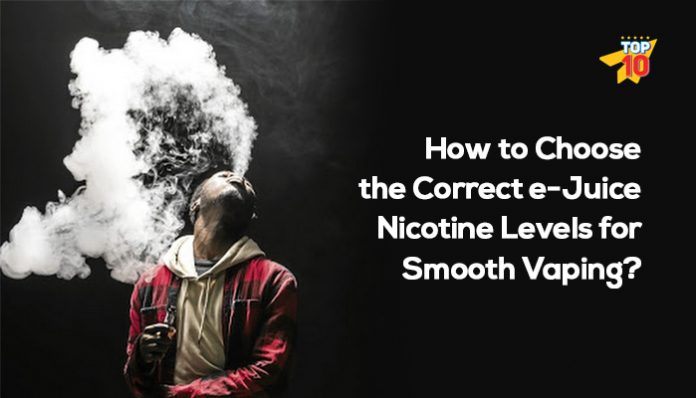 There is a rapid growth in e-Juice and vaping day by day. In the case of beginners, vaping nicotine levels are a bit confusing. After choosing the perfect flavor to vape, then you need to know the correct amount of e-juice nicotine level for smooth vaping.
For quitting cigarettes, vaping is a highly effective method. But knowing the proper nicotine level is critical. This article may help you to find the right e-juice nicotine levels.
What is Vape Juice Nicotine Level?
In the case of smokers, it is difficult for them to find the amount of nicotine present in their cigarettes. Each cigarette brand adds different amounts of nicotine and other chemicals to it, although tobacco itself is having the presence of nicotine. 
But the vape juice users are able to know the amount of nicotine used and also analyze the other elements used for vaping. 
For vape users who were previously smokers, it can be difficult to choose the right vape juice nicotine levels for their needs. Luckily, e-liquid nicotine levels are standard across the industry.
The nicotine strengths of commercial vape juice are 3gm, 6gm, 12gm, and the highest amount of nicotine used is 36gm. 
A high amount of vape juice nicotine level can give e-liquids a harsher taste and throat hit. Some vapers prefer a lower vaping nicotine level that gives a smoother hit and allows them to enjoy the flavor better.
A person who might do well with a higher nicotine level can vape only sparingly throughout the day. People who will vape for a long time may feel that the e-cigarette nicotine levels are too much higher.
For the vapers who once smoked, it is important to find a nicotine level that is suitable for them. They should get the same pleasure as they smoked. A person who was a heavier smoker should need higher nicotine levels. However, vaping is much different than smoking, and even some heavy smokers prefer a lighter nicotine level. Also, some vapers prefer vaping without nicotine.
Nicotine Levels for Sub-Ohm Vaping
There are many people using sub-ohm vape tanks. These types of vapers try to vape with a lower nicotine level. Using these devices more amounts of vapors are produced. 
Many sub-ohm vapers would recommend 6mg e-liquid nicotine levels or even a 3mg e juice, especially for those just starting out with sub-ohm devices. Higher nicotine levels, such as 24mg/mL and 36mg/mL juices are not recommended for users of these types of devices.
Nicotine Levels to Choose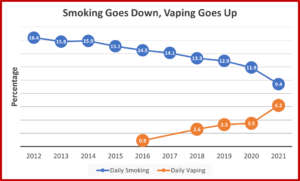 Finding the perfect nicotine level typically comes through trial and experimentation, the following vape nicotine levels (in e-liquid) are most equivalent to different cigarette smoking experiences:
0 mg- It is better for people who don't need the nicotine present in their vape juice. It is also applicable for the individuals who have worked their way down from higher vape juice nicotine levels

3mg- It is suitable for light smokers and for vapers who are stepping down from higher vape nicotine levels.

6mg- It is better for previous light smokers and also best for new vapers who were formerly light to moderate smokers.

12gm- It can be used for new vapers, who were previously chain smokers, i.e. nearly 30 cigarettes per day. 
If you start at one level, it doesn't mean you will remain there forever. Try to make use of different types of vaping devices, different nicotine levels, different e-liquid recipes, and so on. Find the best one that suits you personally. 
These are some of the best vape juice nicotine levels that you can use. With the help of the internet and other references, you can find the best nicotine level for your E Juice.