Introduction
Getting the right glue for eyelash extensions is critical to ensuring that your false lashes don't fall out. False lashes are an excellent way to draw attention to your eyes and get that glamorous look. When worn in combination with other elements, such as eyeliners, false eyelashes give the appearance of larger eyes.
If you are looking for the perfect glue to get that desired look, we have compiled a list of top brands and products that are easy to use and skin-friendly. Moreover, they are easily removed without much effort.
Let's take a look at the different types of glues for eyelash extensions before we dive into the list of best eyelash extension glues.
Eyelash Glue: Types
Customized lash adhesive
The glue can last up to 8 weeks, and it must be removed with an extension remover. It is only used by eyelash extension professionals.
Adhesive for strip eyelashes
A self-apply glue like this is ideal for wearing over the counter false lashes. It is non-fume, safe, simple, and easy to use by yourself. It is easy to remove and lasts throughout the day, unlike other types of glue.
Eyelash Extension Glue: 5 Best Brands
1. Sophie & Lori Extra Strong & Sensitive Eyelash Extension Glue
The eyelash extensions glue for individual lashes technique is a very strong adhesive that dries within a couple seconds and lasts up to 8 weeks. It provides an extra-strong grip to any type of volume. This product is weather-resistant and prevents your eyelashes from snagging in extreme heat or cold. It contains low fumes, making it ideal for people who have sensitive eyes and for lashes that grow quickly. Its dark, black color gives the eyelash extension a natural look and leaves no trace behind. You won't have to worry about its quality, safety, or performance since this new technology glue does not leave any residue in its place.
PROS:
No latex
No sulfate
No formaldehyde
No leaks
No BPA
CONS:
Some people may experience mild eye burning
2. Professional Venus Visage Eyelash Extension Glue
Eyelash extension glue is designed for professional lash artists and is not recommended for self-application. It has a drying time of just a few seconds, making it perfect for traditional and volume lashes. Eyelash extension glue with an advanced formula to securely adhere eyelashes lasts up to seven weeks and is super easy to use. It instantly darkens without leaving any residue. This water-proof glue for lash extensions has been created by professional lash artists, so you can look out into the world with striking eyes.
PROS:
Free of latex
Free of Formaldehyde
Ingredients of the highest quality
Exceptional flexibility
CONS:
This product may cause irritation to sensitive eyes
3. Eyelash Extension Glue by Lonris Premium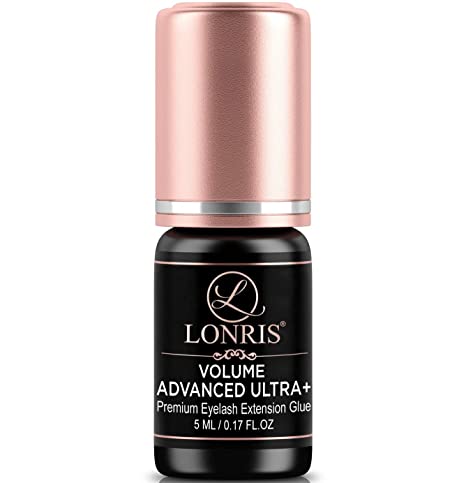 This Korean glue cuts application time in half with its quick drying time of just a second thanks to its advanced formula with amazing bonding and retention power. Over a hundred eyelash extension stylists have tested this glue and approved it, so you will be in good hands. This glue works for both classic and volume lashes, with a thin consistency for quick drying and minimal use.
PROS:
Components of high quality
Controlled quality
Highly flexible
Chemical-free
CONS:
Taking it off may be challenging for some
4. Eyelash Extension Glue by Forabeli
In addition to its amazing bonding and retention ability, this lash extension adhesive dries extremely fast, taking just a few seconds to dry. It is recommended for use by certified extension experts. It has a 2/5 viscosity and 3/5 fume intensity. It has a rubberized pallet that stays fresh after opening as well as a red needle for a longer-lasting glue. This product doesn't compromise on quality.
PROS:
Free of latex
Free of formaldehyde
Ingredients of exceptional quality
ISO and ITQA-certified
CONS:
Its consistency may seem too thin to some.
5.Eyelash Extension Glue by Lyon Lash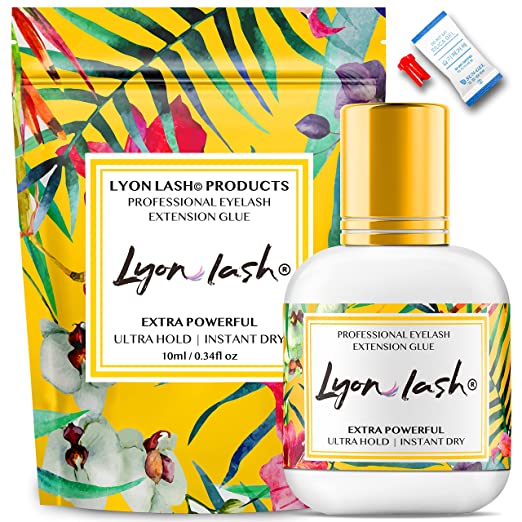 A strong bonding eyelash extension glue that takes 1 to 2 seconds to dry. It has a 6 to 8-week retention power, a viscosity of 2/5, and a fume intensity of 3. It has a viscosity of 2/5, and it is gentle to the eyes. Over 50 eyelash extension professionals have tested and reviewed this glue, and it is recommended only for use by professionals. This glue is manufactured under the strictest quality control to offer you the most reliable eyelash extension products available.
PROS:
Vegan
Free of cruelty
Free of Latex
Free from formaldehyde
Free of petrochemicals
Wet-proof
CONS:
An unpleasant smell may be present
In light of the fact that we reviewed the 5 best glues for eyelash extensions, the following are a few things you should keep in mind before you purchase one, so that you get a product that best suits your needs and requirements.
Eyelash Extension Glue: What To Look For
You won't be able to apply lashes as fast as you would if you were a more experienced user. So, it's important for you to opt for glue that dries more slowly. As you gain competence, you will be able to switch to instant-drying glues.
All good eyelash glues specify the optimal humidity and temperature range of your glue. These important factors affect the performance of the glue. When you live in a humid area, your glue will cure faster, while when you live in a dry temperature, it will take a little longer to dry.
Professional lash artists need to remember that some clients will be allergic to fumes, so they need an adhesive that has low irritation. However, this still only minimizes irritation, not eliminates it altogether. It is important not to use glues that contain latex or cyanoacrylate, which are common allergens. If your natural lashes are thin, choose a glue that has a gentle and light formula.
You will be able to go longer between fills if you choose an eyelash extension glue that delivers the most retention. The right adhesive, combined with the right technique and placement, will ensure that your eyelash extensions last as long as possible.
You can wear clear adhesive over your natural lashes because it will not leave a residue behind. Black glue blends better with winged eyeliner and dark eyeshadows.
When you use thinner glue, the eyelashes will dry in seconds. However, thicker glue takes longer to dry. If you are a beginner, you should use thicker glue because you need time to adjust the eyelashes.
Also read : The Best Eyelash Curler For Asian Eyes
Conclusion
If a thinner, silkier adhesive is more important to you than one with a thicker viscosity, or if you enjoy taking a few extra seconds to make adjustments even if you could work faster, you have to decide which of these factors is most important to you. You can choose from over 5 different adhesives, many of which have unique properties to cater to your unique style. Browse our shop and find the right eyelash glue for you.